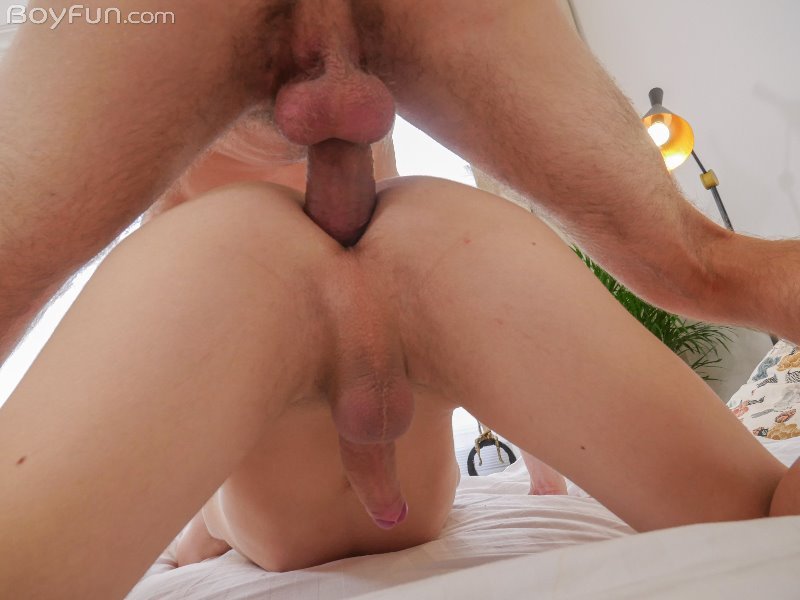 Timmy Cole and Liam Rose are a couple of good boys and they sure know how to have a good time in this new BoyFun encounter.
The sign on the wall advising observers to "Be a good person" certainly seems to have a good affect on these smooth boys. After Liam lets young Timmy into the complex he's quick to invite him back to his bedroom, and the young guest quickly follows.
He no doubt knew what was in store for him, and with some groping and kisses on the bed the two are soon shirtless and stripped down to their bulging briefs, with cocks straining for freedom.
Timmy is happy to get to work on his new friend's rigid cock, wanking and sucking his host with glee before his own stiff erection is being orally serviced by his greedy host.
Clearly this is just the appetizer, with both boners wet and throbbing young Timmy's hole is lovingly lapped, his pucker slobbered and probed until it's ready for Liam's length to slide right in.
The pumping from behind is a good opening move, but the ride the boy takes on his pal's penis gets them both closer to a creamy finish. A spooning and reach around does the trick for sexy young Timmy, his cum spurting over his smooth stomach.
Liam is quickly ready to deliver his own copious cum load, splashing his semen over the cute boy's face and giving his new friend a taste of his juices.
The are good boys, and there are great boys.