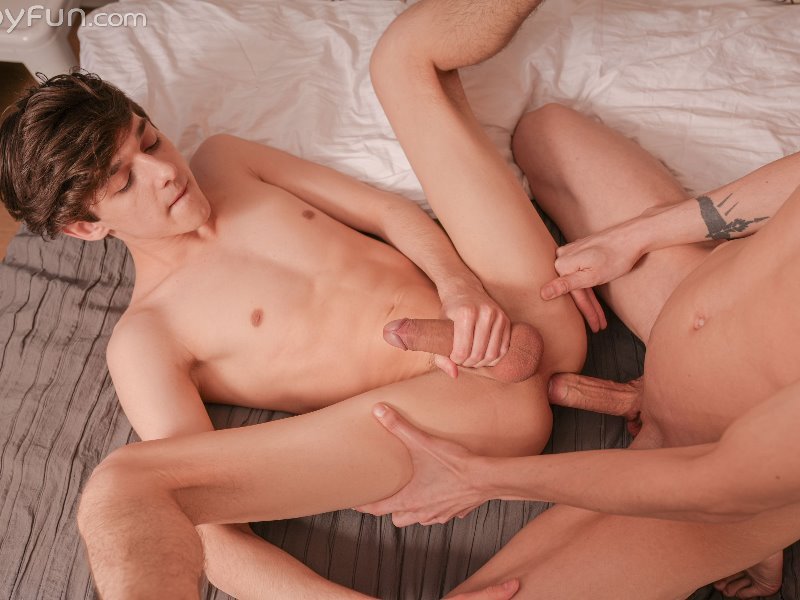 We join smooth and sexy BoyFun twinks Tony Keit and Jay Hammel in town, enjoying a cold treat in the summer sun, but these boys need something meaty soon after.
We can't criticize their dietary habits and suggest dessert should come after something more filling, we would all gladly retreat to the bedroom to enjoy some stiff sausage with either of these twinks if we had the chance.
Moments after arriving on the bed the sexy pals are groping for those tasty dongs in their pants, freeing their damp dicks for a great session of wanking and sucking.
Despite their icecream treats they're clearly ravenous, slurping and licking each other's bulbous helmets, rubbing up their throbbing shafts, tasting the juice leaking from their cum holes.
Jay turns his attention to his buddy's little pucker and gives it some thumbing and that's all his bottom boy needs. His ass is soon up and begging for that naked length to slide in deep and raw.
Watch Tony enjoying that probing before taking a sideways ride on his friend's lovely erection, his ass pumping up and down on the warm length.
The final ramming with Tony on is back and his legs up tight while he pumps his own penis is a delight to watch. Their erupting fountains of twink cum will certainly have you joining in with your own creamy delivery.