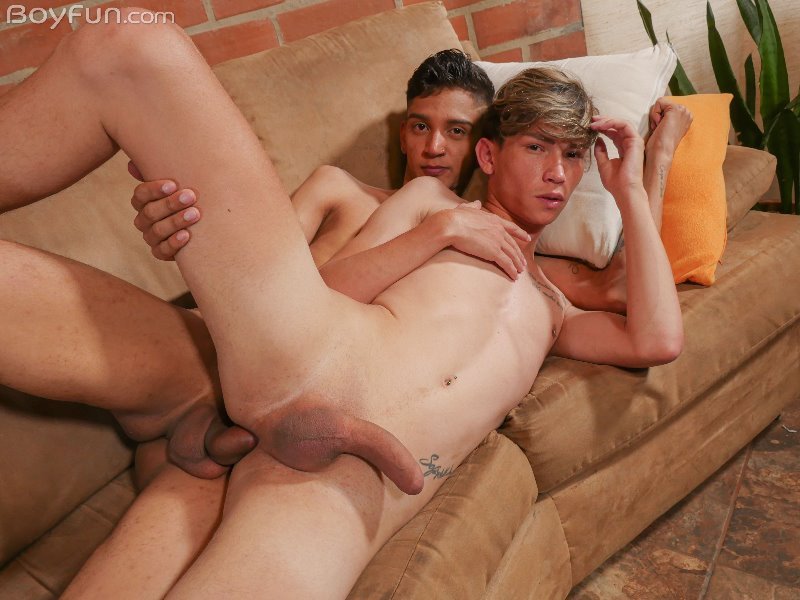 Nicolas Greey is one of the most forthcoming boys we have ever seen.
He doesn't just cruise around town looking to make eye contact with gorgeous boys like Billy Garcia, he takes the initiative and walks right up to grab their phone and put his number in it.
We wouldn't recommend trying that yourself, you're more likely to be tackled as a suspected mugger, but it seems to work for him and soon enough he's enjoying some BoyFun on the couch with his new friend.
Their make-out session is long and sensual, but with their t-shirts off and their hands roaming it's not long before tanned boy Nicolas is sucking on the long curved cock of his smooth new buddy.
His own thicker meat is just as tasty, as young Billy soon discovers, but Billy's ass is even more delicious.
With some good tongue action from greedy boy Nicolas his pucker is ready for a fast fucking, with that long dick slipping inside and pumping Billy from behind.
A good ride for the hook up culminates in a deep spooning that has Billy slinging his sperm out of his long erection and splashing over his thigh, a mess soon doubled when Nicolas pulls his naked length free and jerks his banana to a gooey finish.
These boys could put both their numbers in my phone any time.