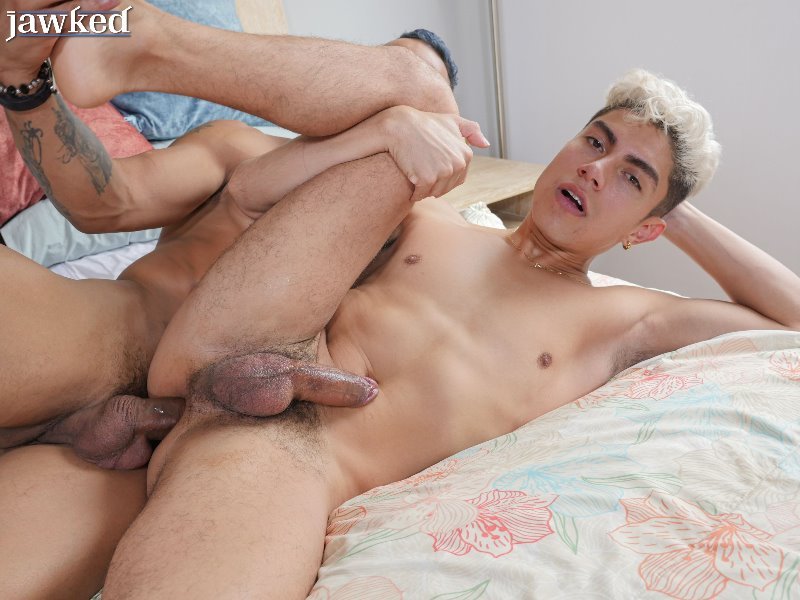 The sight of handsome Jawked hunk Deymon Castillo working out in the park is surely enough to have most guys pausing to drink in that muscular vision. It's certainly enough for blond young Alfonso Osnaya, and his eagerness to watch isn't missed by the studly athlete.
Looking the way he does you know he's always getting plenty of attention at the gym, but here he has the opportunity to explore his horny post-workout needs with a new buddy and he's not gonna pass it up.
There's not a lot of cruising needed, no elaborate teasing or furtive glances, at least not in the traditional sense. In moments the two are enticing each other with roaming hands and after an initial smooch Deymon's big hard cock is out of his shorts and Alfonso is sucking him off right there in the open.
His penis is so hard, so damp and so delicious, it's no wonder Alfonso can't wait for privacy before gobbling his juicy jock tool.
It's probably not the wisest thing to do in the open where any passing observer might spy them, so it's a good thing they decide to find the comfort of a private bedroom where Deymon can return the cock sucking favor and get a taste of his new pal's raw hole, too.
With Alfonso well and truly prepped by his new buddy Deymon is ready to slide his naked muscle cock between those plump cheeks, fucking Alfonso against the wall, giving his leaner blond buddy a ride on his rigid jock dick and spooning his fresh fuck bud on the bed.
It's definitely a far hotter workout than the one he was enjoying and of course it can only end with plenty of cum being gushed from their rampant rods.
With the taste of Deymon's warm jock cream splashing over his face and into his open mouth Alfonso is wanking out his own copious cum splashes and making a gooey mess of himself.
Daymon is definitely the kind of man who needs a good release after a training session, and now he has a local buddy to share it with.