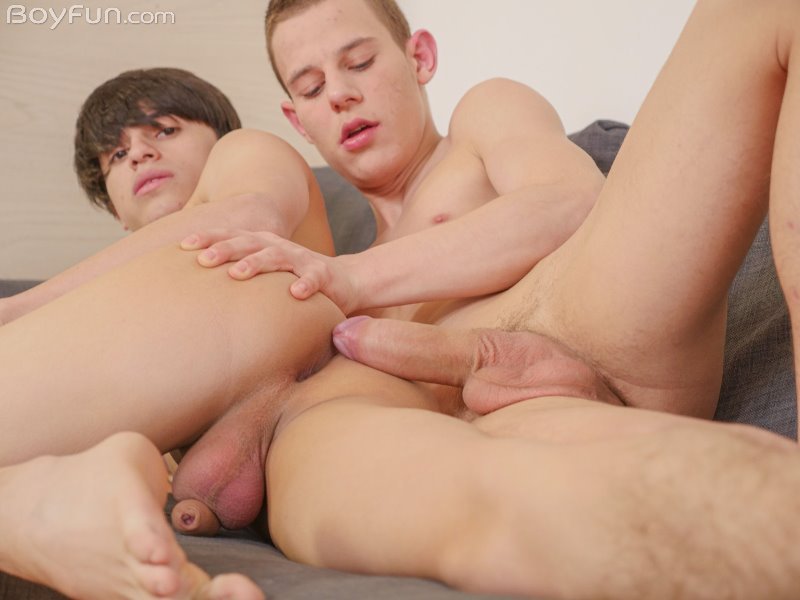 Cute gamer boy Justin Host is enjoying an evening on the couch when Ollie Barn arrives for some BoyFun, and you know it's not going to take much to make this twink give up his controller for something far more interesting than a computer game.
Joysticks might be a thing of the past when it comes to computer games but these boys have their own and it's not long before Justin is finding one to handle.
A little smooching and groping between the smooth and playful boys sees Ollie's lovely uncut cock freed for young Justin to suck and lick, and he sure knows how to rack up some points with his skill.
For his part Ollie is eager to show off some talents of his own, lapping and fingering his pal's snug pucker and preparing it for a boss fight.
While we don't know how skilled young Justin is at playing online it's clear this boy can handle a meaty weapon. Ollie slides his naked penis between those damp cheeks and our bottom boy is eager to accept it, the warm inches easing into his pucker for a good thrusting fuck.
A great ride on Ollie's boy meat sees smooth gamer Justin eager for more, enjoying some sucking from his top pal and a final pounding leading them both toward a high score.
Justin definitely gains some points for his spooge slinging skills when he launches his milky mess out all over himself, and it's soon added to when Ollie pulls out and tugs off to spurt his own gooey load.
Even the biggest gamers in the world would gladly put their game on pause for a session like this.