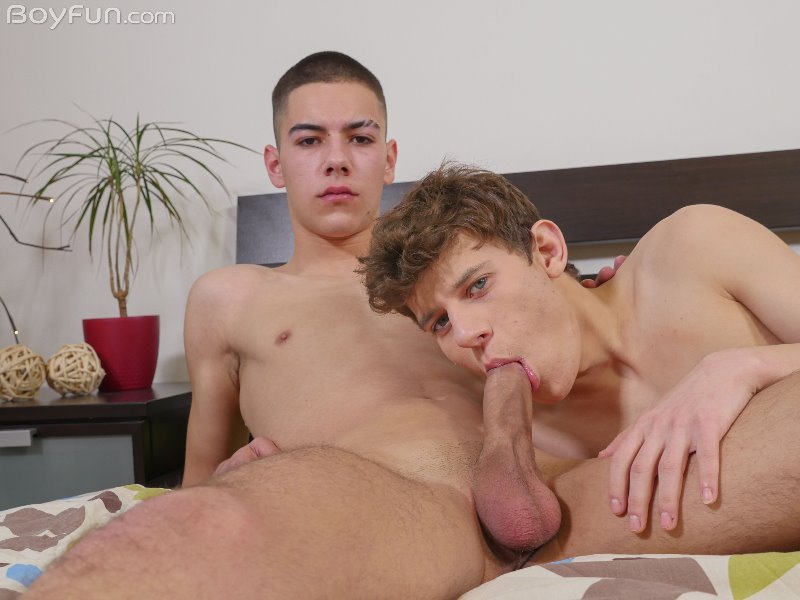 Sweet young Ollie Barn is such an adorable hottie, but the BoyFun star looks even better with a big cock-shaped lollipop in his sucking mouth. His friend Ares Reiv arrives with the sweet treats for the two boys to enjoy, but there could be no other way for this horny and brazen display to go.
The delicious sugary dongs are no match for the meaty poles the boys have in their pants, and Ollie is quick to get a savory treat when the warm and delicious big uncut dong between his friend's legs is produced.
Watch him gag and gobble on the drooling uncut meat of his friend and see the boys get kinkier when Ollie's tight little rump is up and exposed for his buddy to slide his sweet treat inside.
The sugary dick opens him up, but soon Ares is easing the real thing inside.
A great ride on Ares' big bareback cock follows but the handsome lad can't let the opportunity to suck his pal's penis go by. After getting a good taste of Ollie's meat in return he's ready to slide back inside that warm ass and take them both to a messy cum pumping finish.
An incredible spooge slinging facial from Ares quickly has his bottom boy ready to bust with a friendly hand job finish.
Remember boys, it's important to have a balanced diet. You need more protein than sugar.