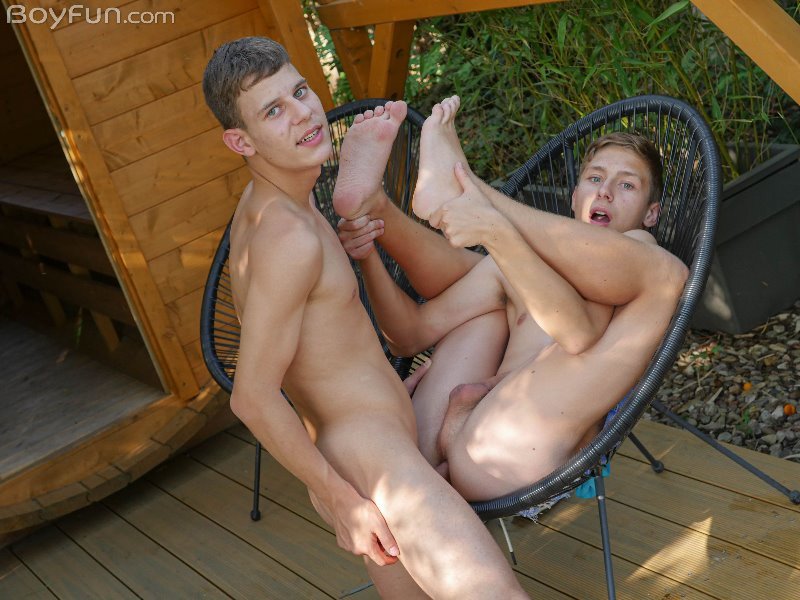 Sexy little twink Timmy Cole is enjoying a snooze in the shade of the garden when he's distracted by hard working boy Ollie Barn sweeping around him. The young man can't seem to keep his hands to himself, reaching out and grabbing the boy's ass. Ollie might seem irritated at first, but he's soon persuaded into some BoyFun when their lips aggressively meet.
For such a twinky young guy Timmy really does seem to have a dominant streak, and with shirts slipped off and his friend's stiff uncut meat revealed from his pants he's quickly heading down to suck and lick his pal's rigid penis.
He's not the only one who needs a taste of dick. Ollie has been thoroughly convinced of their need to please each other and with Timmy laying back naked in the seat he gets to work on the stiff young meat, servicing his pal with equal gusto before turning his attention to the boy's pucker and taint.
While smooth boy Timmy started out as the dominant one seeking a dick to slurp he's soon the submissive one enjoying the feel of a bareback uncut dick filling his hole. Ollie slides in and pumps his pucker, making full use of the socked boy's hole before they move to a doggy position.
Ollie's big heavy nuts swing and slap while he thrusts into his friend from behind, with Timmy's dick still wet and throbbing while he enjoys every pump.
A final standing fuck shows just how much Timmy needed that release. With his dick in his fist and his ass being hammered he starts to spew his juicy load out over the ground, pumping a big mess from his swollen dome.
The pleasure quickly transfers to his top pal. Ollie pulls out and Timmy kneels, ready to take the gushing fountain of twink semen right in his waiting mouth.
That sure beats sweeping the garden, and taking a lazy nap in the shade.