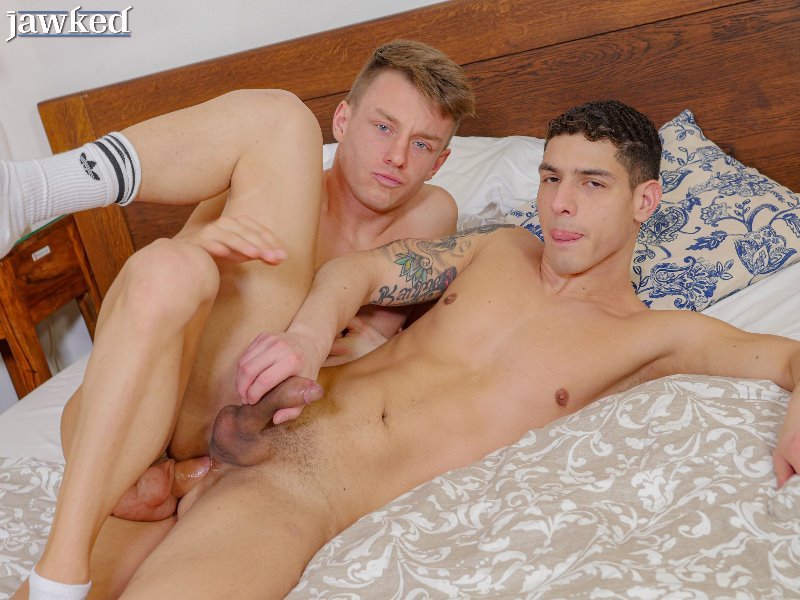 Fit boy Bastian Karim arrives at just the right time to catch his horny jock buddy Mark Troy admiring his own physique in the bedroom mirror, it's probably inevitable that two horny and hot young men would start to compare. It's the perfect opportunity to share some Jawked fun when the two are checking out each other's fine bodies.
Stripped down to their underwear and with their jock dicks bulging out it's only moments before the two are locking lips and starting to truly explore each other.
With their penises freed from their snug briefs the boys can't hold back, sucking and slurping each other with the kind of greed you might expect. These two obviously love the male physique in general, but their attention to those dicks displays an undeniable jock lust.
All Bastian needs is a little hole play and he's ready for his friend's pink erection to slide in deep and raw. He enjoys a little spooning before bending over for a good bareback fucking, his perfect ass welcoming his buddy's warm cock.
Jock boys like these know how much protein a good load of cum contains. With his own load pumped out over his abs handsome Bastian can't wait to gobble up the fresh juice splashing over his face from gorgeous Mark's cock.
These workout buddies sure now how to enjoy the results of their time in the gym.