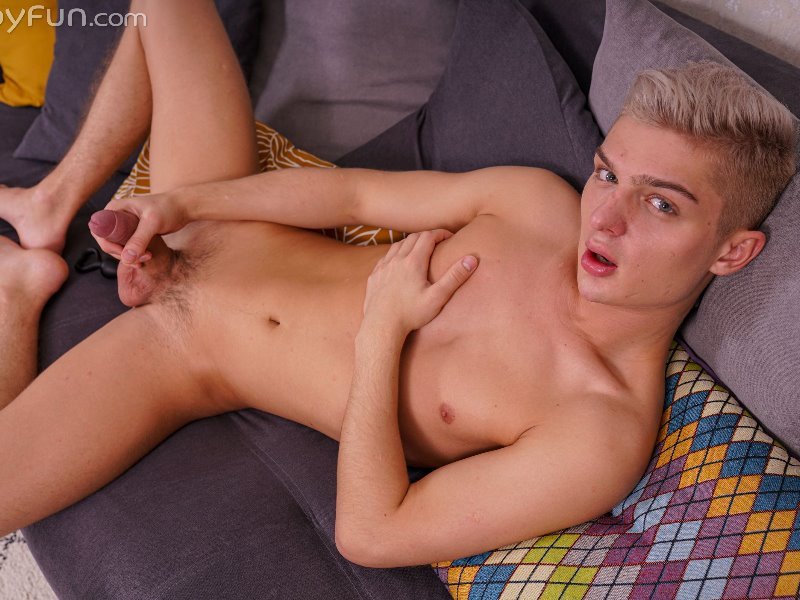 Boys love their toys, and that's definitely true of super sexy blond twink Alex Blade. He's kicking back on the couch and ready to indulge in an intense play session for this new solo BoyFun video, and you're gonna want to join in.
His blue eyes are so enticing while his hand explores his swelling bulge, toying and teasing with he package in his sexy shorts. With a little flashing of his smooth stomach and hairless chest the boy lures us even more and we can help but be trapped by him.
When the boy toys with his nipples we can't help but imagine licking and nibbling them.
Our oral attention would continue south, of course.
When the boy is almost naked but for his snug little jock strap he collects the beaded anal toy for his ass to enjoy. His cock isn't even freed yet and we're imagining what it would be like to completely pleasure him in every way.
As soon as his hard penis is released we're imagining sucking and slurping him, but as he shows his ass our attention immediately turns to all the other pleasures we could offer. You'd love to slide into that hot little pucker and fill him up with your hard meat.
Watch as the boy slips the toy into his ass, fucking himself gently with it while he strokes his rigid cock, pumping his damp uncut penis in his fist, his balls bouncing.
We even get some great doggy style action as the boy bends over with the toy sticking out of his snug little hole. You wouldn't be able to refuse helping him along with his pleasures.
Finally, with his excitement overflowing, the boy pumps his penis and his ass flexes around the beaded toy, his semen gushing from his helmet in a satisfying display that will certainly have you all joining in with him, if you've lasted that long.