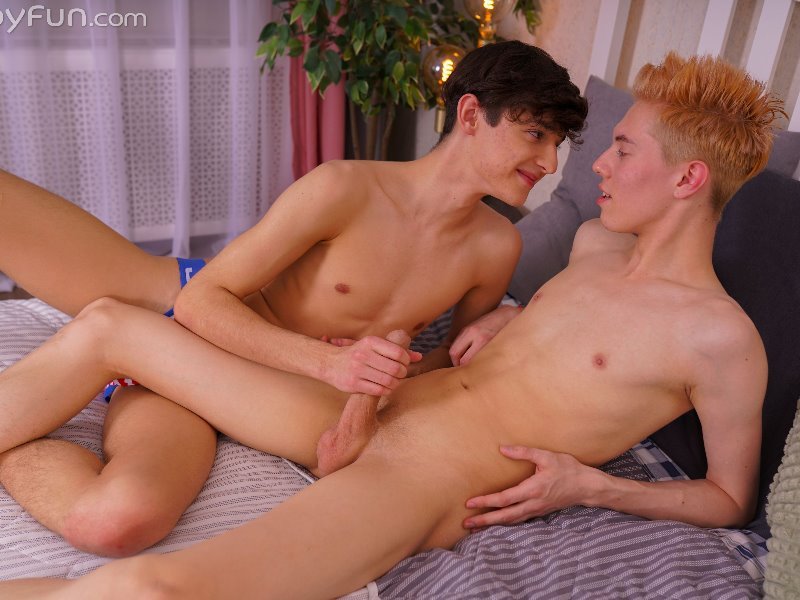 The weather might be icy outside but these gorgeous twinks know how to keep warm in the bedroom with some rampant BoyFun. After some playful games in the snow the two young friends are eager to go and warm up together.
We join sweet little Tony Keit and his adorable pal Angel Abell for this steamy encounter, entertaining each other in the most delicious way.
Within moments of reaching the bedroom the smooth and slim boys are locking lips and exploring each other, finding two hard young penises desperate for some wet pleasure.
Indeed, both of these boys are more than experienced when it comes to pleasures of the flesh, wanking and sucking each other's raging erection, frotting their hard dicks together and savoring the sweet nectar leaking from their hooded helmets.
The pleasure is immediately intense, but it only grows when Angel offers his meaty spike for his friend's tight little pucker.
Tony can't seem to wait, taking the bareback boner from behind, his back arching while his buddy slides in deep. The ride the boy takes on his buddy drives that cock even deeper, his own youthful penis raging hard in his hand while he bounces up and down.
As their moans of bliss and horny utterances drive them forward the two spoon together, Angel's balls slapping and swaying with the thrusts of his gorgeous erection buried deep in his friend's snug hole, until they can't take any more.
In moments young Tony's smooth stomach is looking like a snowy scene from beyond the window, splashed with creamy white goo.