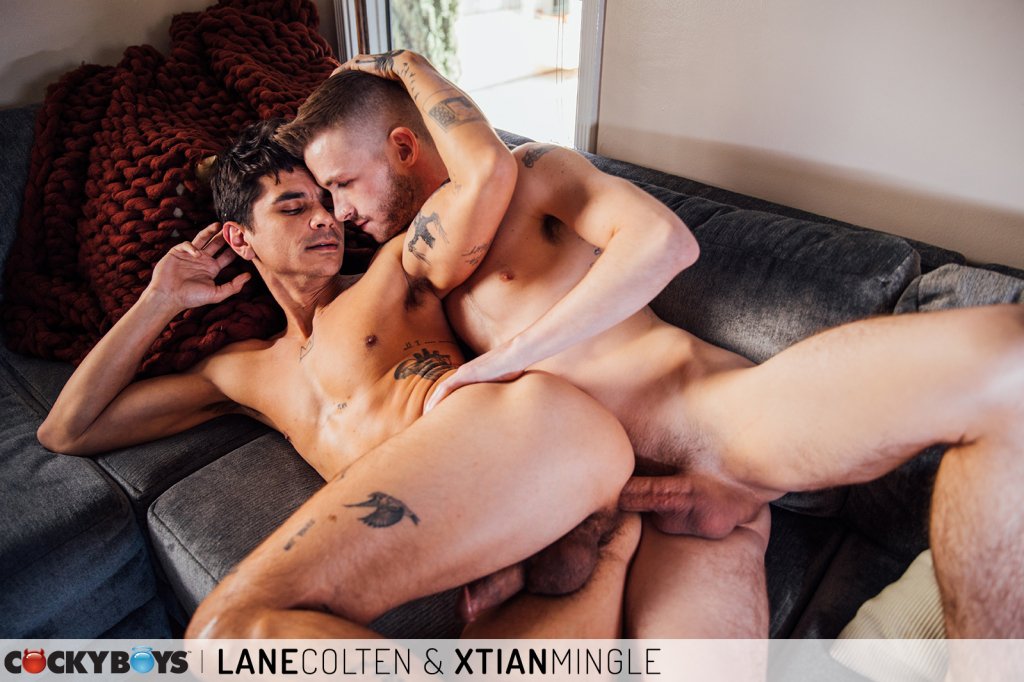 Cockyboys / Photos / Videos
CockyBoys presents another New Fresh Face of February – Xtian Mingle with Lane Colten
Lane Colten returns to reenact his wet dream, with new face Xtian Mingle (in his CockyBoys debut) helping to bring the fantasy to life. Being in a barber chair has erotic triggers for Lane, especially as sexy Xtian trims him with a vibrating buzzer and lightly blows the hair off his neck. Before he knows it Lane dozes and dreams that Xtian goes a step further by kissing him, whisking off his smock, rubbing his hard-on against him, and fondling his crotch while massaging his scalp.
Xtian finishes the job, then gets down to business by swiveling Lane around and sucking his big dick. Xtian has to use his mouth and hands-on Lane's growing cock and he periodically kisses him, vividly pleasuring Lane and making Xtian more excited too. Soon Xtian has Lane bent over to slobber over his hole, big balls, and throbbing boner. It isn't long before Lane gives Xtian control to pound his ass.
After some deep drilling, Lane gets to suck Xtian, who soon returns the favor again but this time Lane takes control. He stands up Xtian and fucks him in the doorway and puts HIM in a state of visible pleasure. Xtian gets, even more, when on his back as Lane eats him out and makes him take every inch of his cock. Lane hits just the right position and Xtian loves it…and tells him so.
Lane wants Xtian to ride his cock in a reverse piledriver but soon they're fucking nonstop all over the room. Lane drills Xtian from behind and goes over the edge, pulling out to shoot over his gaping hole and finish inside him. Lane finally gets Xtian on his back again and fucks him till the bottom shoots over himself. And, just as easily as he drifted off, Lane returns to reality, disappointed it was all just a dream.