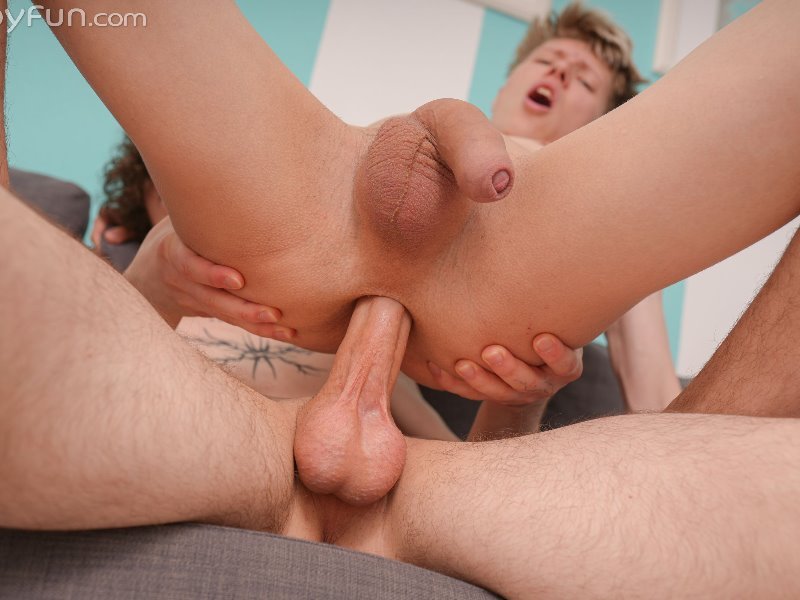 The sight of two absolutely gorgeous BoyFun twinks together is enough to have any guy jerking along to the show and making a hot mess, but you're going to want to take your time with Tom Heart and Oleg Dosteovskii and savor every moment of this incredible bareback encounter.
The two friends are enjoying an innocent game of cards when floppy haired Tom decides there are much better games a couple of boys can be playing.
It seems his friend is of similar mind, and he certainly is by the time his hooded dick is being licked and sucked by his pal.
Their smooches and gropes only become more insistent as their youthful cocks strain rigidly for pleasure, the two swapping their oral pleasures and giving their friend some great dick rubs.
Fully naked and ready for more, young Tom enjoys some licking of his tight pucker before Oleg eases the head of his naked rod between his cheeks, following it up with every throbbing inch of his steel-like rod.
Watch and wank along as Tom takes that cock every which way he can, on his back, doggy style and riding his buddy too before his boner spits his warm cream and his pucker takes a hot splashing from his unleashing lover.
That sure beats spending the afternoon playing card games.