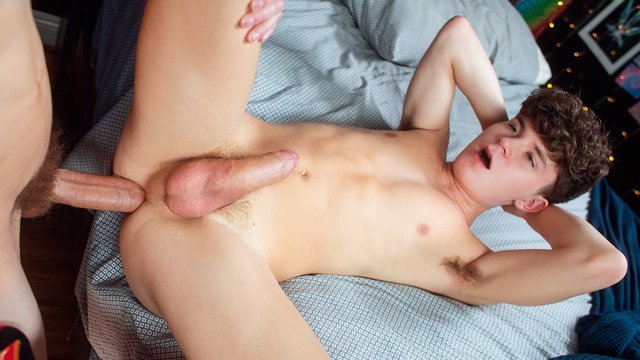 Hot, handsy, horny, and HUNG, Silas Brooks and Spikey Dee swap spit as they strip down, anxious to finally get their hands on one another's fabled phalluses. When the pants finally fall to the floor, the gorgeously gifted guys go IN, smacking their stone-hard, supersizers together as they kiss with horned-up hunger in their eyes. Pretty boy porn pro Silas eases back on the bed like the young confident stud he is and lets Spikey satisfy his carnal cock craving. There's more than enough to nourish the naughty boy, and Dee dines like a king.
Unable to contain himself any longer, Brooks pulls the meat-slingin' mop-top up off his knees and crams that colossal cock down his throat. Silas slathers on some impressive skill, and gives the sinewy young stud a sloppy good knob job, before demonstrating some delicious dominance maneuvering the lusty lad onto the bed. The long donged dude lays back, hikes his heels to the heavens, and accepts every inch Brooks bangs into his beautifully smooth butt. Silas smashes the dirty blond boy on his back, then gives him a go on all fours where Spikey looks back at him with those beautiful baby-blues.
However, Brooks is wise enough to know when there's a dick like Dee's in the room, you gotta give it a go. So he smacks the dude on the can and gets on his back. Knowing the pure power between his legs, Dee goes easy at first, but once he hears Brooks moan for more, he spits in that hot hole and amps it up! The dude's dick is enormous. Silas takes as much as he can on his back before straddling the slender schlong-slinger in an attempt to wrangle the full length! Brooks bounces his beautiful bubble like a bone hungry beast, driving more and more dick up his hungry hole with every movement. The deep drilling eventually hits the young hunk's hot spot, and he spills spunk all over Spikey's shredded stomach. With Brooks' boy-bust tracing his tight torso, Dee grabs his hero hog and explodes, splattering Silas' smooth, freshly smashed seat with a load worthy of his huge cock.