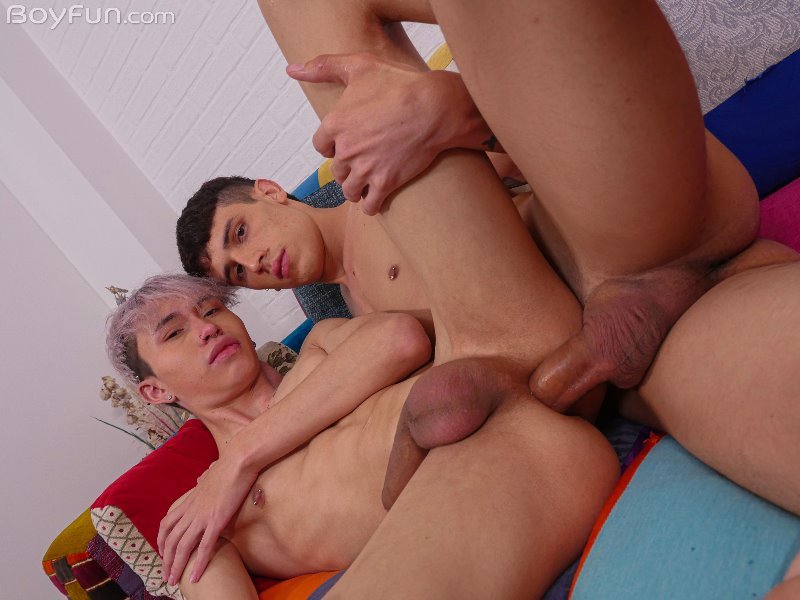 Junior Jones is cute all over, but his ass is one of his best assets and it's no surprise young Xander Gomez becomes a little fascinated with it in this BoyFun play session.
The boys are meeting up for the first time in a long time, and of course Xander is eager to invite the boy back to his place. It's very quickly apparent that they don't have much to talk about, but they can fill that silence with a whole lot of smooching and groping.
It's an almost romantic experience for these boys, but when Xander gets down to where Junior's cock is hard and damp he's soon sucking on the pink meat and encouraging his friend to get harder.
He hasn't even freed his own long dick from his underwear before he's obsessing over the little pink starfish between his friend's butt cheeks. With a lot of spit and finger rubbing he has the boy ready for his long meat to slide in, and he wastes no time.
The spooning fuck on the couch is a great opener. Xander fills young Junior's pucker with his raw length and pounds him while wanking him off and taking them both closer to climax.
There's enough time for a little break, which Junior makes great use of sucking on is pal's impressive intact cock. Xander really does have an immense tool, so long and meaty, so wet with precum and spit.
It's soon back to doing the job it's made for, with Junior riding his length and finishing up with a missionary fucking taking them both to a cum splashing mutual climax that leaves cutie Junior drained of cream and showered with Xander's fresh ball juice.
Clearly these boys will be staying in touch from now on.