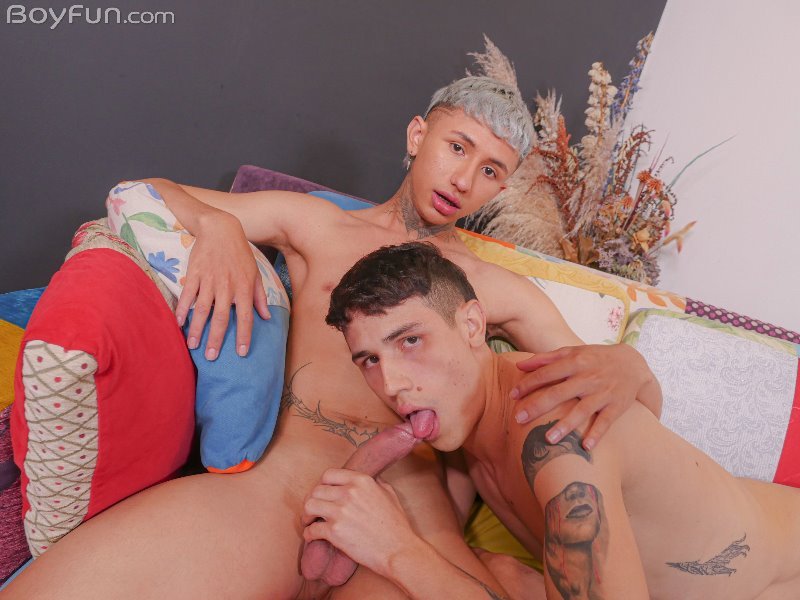 Archi Gold is a bit of a snooper, but you can't really blame him when he has a hung young pal like Xander Gomez playing with his big BoyFun dong in the shower. You'd probably want to watch him, too.
Thankfully Xander is more than happy to have some hot young company in the shower, especially a boy like Archi who is so greedy for cock he can gag on the biggest.
In moments that big dong is pumping in and out of the boy's throat, with Archi loving the taste of his friend's engorged meat drooling precum for him to drink.
With semen flooding from Archi's mouth you might think that's the end of it, but you'd be surprised how quickly a lad like hung Xander can make another load for a thirsty young guy to swallow.
On the couch the boys are ready for round two, but this time Xander is eager to return the favor and gobble on Archi's equally impressive penis before licking out the boy's hole and driving his already reloaded penis inside.
Lucky Archi gets that big bareback meat in every position, splashing his hot juices out over himself before Xander delvers his second load of the day and wanks his awesome length to a gushing climax.
We already know that big cock will probably be ready to shoot another round in no time at all.