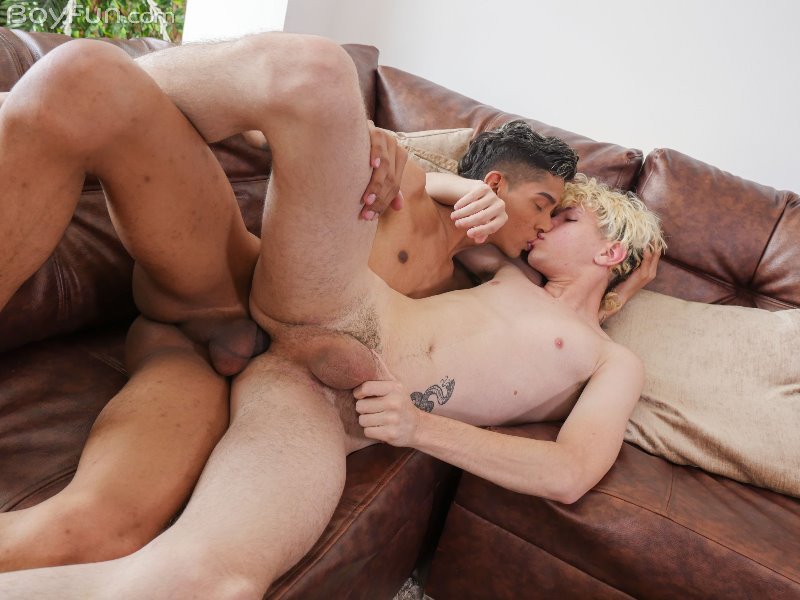 Super slim twink boy Nicholas Greey is the most friendly and helpful local. Then blond by Melo Prince misses his bus the tanned youth is quick to make friends with him and offer a way to make the hour wait a lot more fun that it would have been. Of course young Melo is soon accepting his less than discreet offer of some no-strings BoyFun.
Instead of moping around near the bus stop with nothing to do the pale young lad is soon enjoying a feast of hard cock with his new pal.
Slim boy Nicholas has one of the lovelies penises, and Melo can't seem to get enough of while the two are swapping slurps and getting to know each in the best possible way.
Their cocks aren't the only thing needing a good slurp. With his pale little butt up in the air his new buddy is quick to give it a good licking, preparing his guest's hole for his length to slide in good and deep.
The spooning thrusts set the pace, but Melo is soon riding his friend with his own pale member bouncing around with excitable stiffness.
On his back and with a little rough grabbing for good measure Melp is taken to the limit, his friend pumping his hole until the first splashes of semen erupt all over the boy's naked belly.
It's enough to have top boy Nicholas pulling out and wanking off, splashing his own juicy goo over his new buddy.
No doubt Melo will be missing his bus more often, and intentionally.