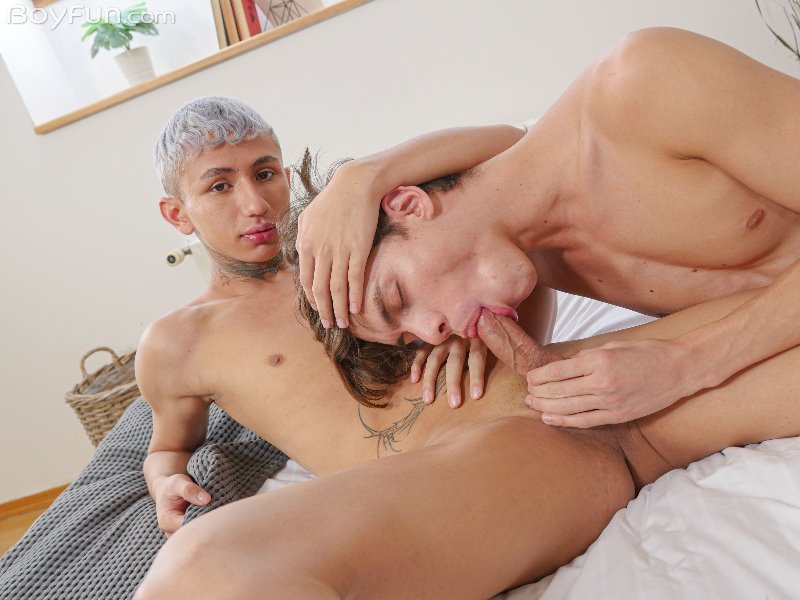 Super sexy young Archi Gold has a very healthy appetite, especially when it comes to eating the ass of a gorgeous young thing like Austin Ponce. The two are seeing the sights and taking photos around the historic city when their need for BoyFun leads them back to the bedroom.
Their youthful lust for cock and ass quickly takes over and within moments of arriving in the bedroom the two and revealing their lean and slim bodies.
Austin gets right to work the moment his pal's penis is free from his pants, lovingly stroking and sucking the damp length. With more clothes hastily removed he feasts on his buddy's delicious dong, gagging on the length and taking it into his throat, his hunger for his friend's cock insatiable.
With a 69 putting the boy's peachy little ass in Archi's face he's soon being licked and slurped while he continues his work on those hard young inches. The boy loves the feel of that wet tongue licking and lapping at his twitching pucker, but he prefers the feel of a hard cock sliding in deep.
Archi is able to deliver that, too.
With a few hard and deep thrusts from behind young Austin is opened up and ready for some deeper thrusts, being spooned and riding his friend while his own pink uncut meat swings and slaps around.
It's a fast and frantic fuck for these boys, and it all ends with a big messy finish splashed all over cute cum-lover Austin's adorable face.