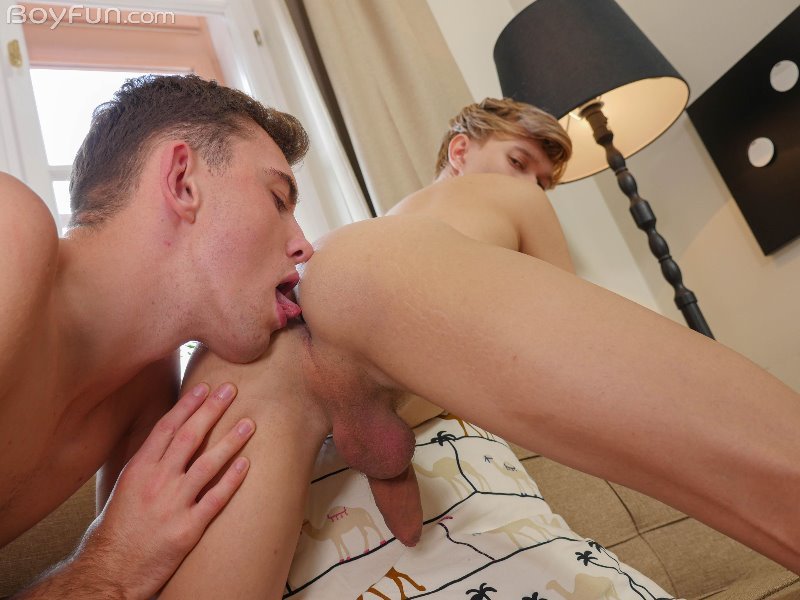 When adorable little Angel Rivers invites you in for coffee you know you're heading for a good BoyFun time. Tall and sexy Adam Barnes seems a little reluctant once he's on the couch and his friend is making some very obvious moves, but you know how it is with boys with big cocks. He's soon locking lips with his pal and the two are stripping their clothes off.
Any hesitation Adam had when he first arrived is soon gone with his gigantic uncut penis being stroked and sucked by greedy young Angel. This boy knows how to pleasure such an over sized dick and he seems determined to get the cream from his buddy.
Thankfully Adam isn't going to let that happen before he's used his long bareback meat the way it was intended. With just a little lapping of young Angel's hole he's ready to fill the boy up and bugger him from behind.
A good ramming while he's bent over leads to a hot ride when Angel impales his pucker down on his guests incredible schlong, pulling on his own penis while his friend fucks him from below.
Perhaps convinced by the lust of their encounter Adam finally gets a taste of cock for himself, taking a break from his anal pounding to lick and suck on the thick intact meat of his bottom buddy.
He's not too used to sucking cock, but he does an admirable job before finishing up with a final pounding, ramming Angel on his back until both boys are wanking out their spurting wads of cum.
We can only imagine Adam eventually got his coffee.