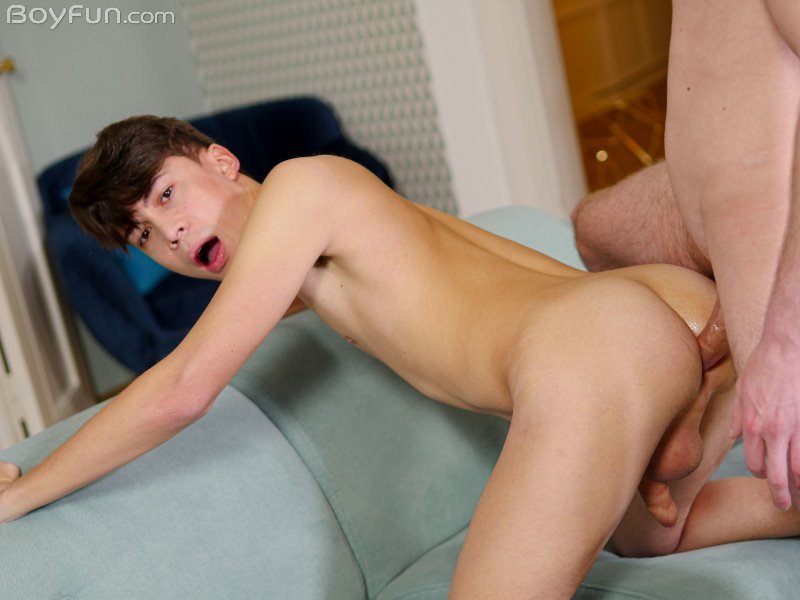 Cute little Danny probably shouldn't have gone out for a walk in the woods during some of the worst weather of the winter, but falling over in the snow and busting open his pants in the process isn't all bad, it turns out it's a good excuse to entice his roommate Jack into some BoyFun.
It seems Jack doesn't really need any excuses, will all the attention firmly on Danny's bulging crotch he just can't seem to help himself and in moments he's groping that package and sharing a sexy smooch with his friend.
It's quite clear that the handsome young man is quite new to all of this, but his friend Danny knows how to pleasure a hard cock. Jack is stiff and damp the second his dick is freed and young Danny puts his mouth to work to make it even harder.
If he weren't convinced already he soon is when he gets a taste of Danny's dick and tight little hole, slurping the boy's cock before heading around the back to lick him out ready for his steely bareback rod to slide in deep.
It's hard to believe this all started with a simply wardrobe malfunction but by the time Jack is thrusting his naked cock in and out of the boy's snug pucker he's in his element and loving every second of it. His balls slap and swing with the passion of his pumping and with some deeper riding and missionary fucking Jack has his pal just about ready to burst.
The taste of fresh warm cum pouring right into his mouth is all Danny needs. With his roommate's cock cream sliding down his throat he's pumping his own juicy goo from his pink tip and making a good mess.
If Danny knew it would be this easy to entice his friend he would have busted his pants open far earlier.