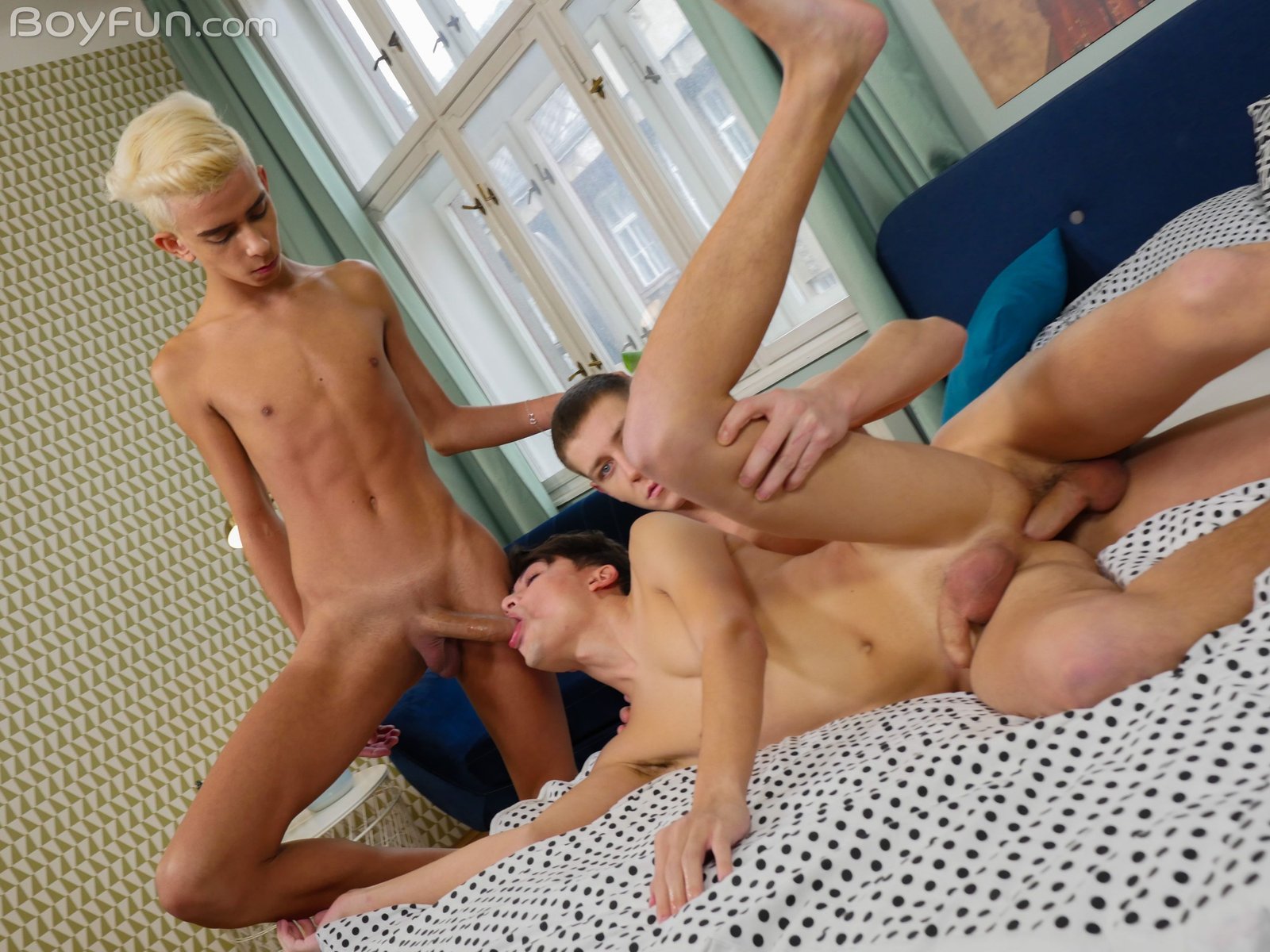 Boyfun / Photos / Videos
The Naughty Photographer : Danny Bianchi, Karl Stevens, Rick Vilela
If you think it's easy working on a porn shoot spare a thought for photographer Karl Stevens in this new BoyFun session with gorgeous shirtless stars Danny Bianchi and Rick Vilela.
It might start out simple enough, taking a few snaps of the sexy young guys lounging on the bed, but before long his own big uncut cock is swelling up in his pants and the sight of the two twinks revealing their own engorged erections is enough to convince him to abandon his professionalism.
Understandably it takes mere moments before the two twinks have successfully seduced the handsome young man. The boy puts down the camera and finds himself between them, his big pale dick being lovingly slurped between skilled lips while precum seeps from his red and tender tip.
No doubt it could become a threesome sucking session with fountains of semen being splashed in cute faces, but young Danny is clearly in demand for a little more than an oral feast.
His smooth and snut little ass is soon up and Karl sinks in with little delay, fucking him bareback from behind while the boy services his blond pal with his eager mouth.
This first spitroasting could only have Rick demanding the same. He takes over from his friend and Karl gives him equal treatment, easing inside and filling the boy with his warm inches, his hips pumping that length deep in and out.
There's no denying both these twinky bottoms are desperate to share his hard and raw cock between them. They swap again, with some deep spooning and some missionary buggering, Karl's cock working overtime to give both his models the kind of pleasure they demand.
He's skilled enough to succeed. After such an incredible threesome romp the boys reach their finale with Rick splashing his semen over himself, Karl pumping his warm spooge in Danny's face and the final bottom boy jerking out his goo in a wanking finish that has all three totally satisfied.