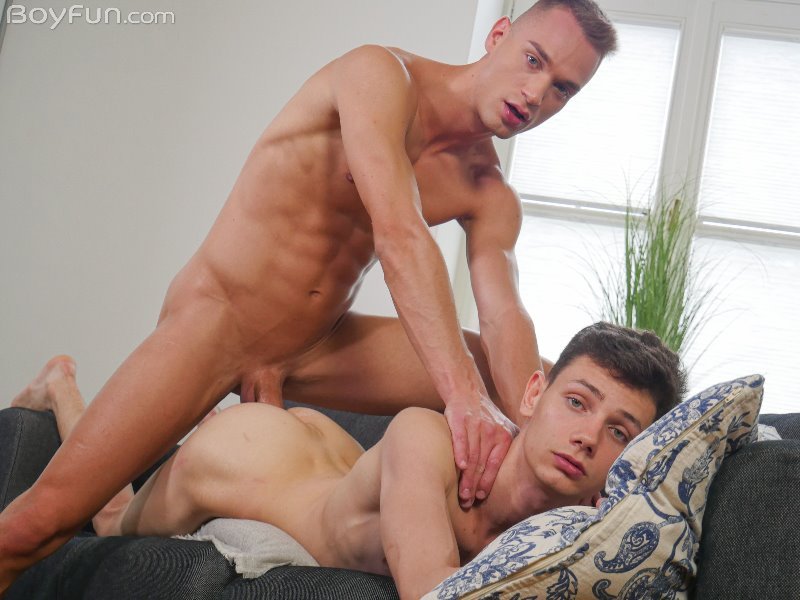 When sexy Nico Vegas has a guest expected he's not the kind of horny young man to waste a moment before getting down to some hot BoyFun.
After meeting gorgeous young Nils Larsen at the train station the two are heading straight back to Nico's apartment where their afternoon of penis pleasing starts with a sexy make out session.
It's mere moments before their eager hands are exploring each other and their clothes are coming off, with both smooth buddies rigidly hard and drooling precum in expectation of the pleasures they're about to share.
Watch as lucky boy Nils sucks and licks his pal's proud prong, worshiping his friend's engorged inches before his delectable little ass is up for licking.
Nico laps and slurps and soon enough the boy is ready for his raw cock to slide in for a good deep ramming.
With a little break for some more cock sucking Nico is fast approaching the end, ready to splash his pent-up cum, but not before giving his visitor a great ride on his throbbing erection and taking young Nils to a missionary thrusting that finally gets the bareback buddies to cum leaping climax.
The shower of semen Nils takes over his cute face is an impressive one you'd love to add your own cock juice to.