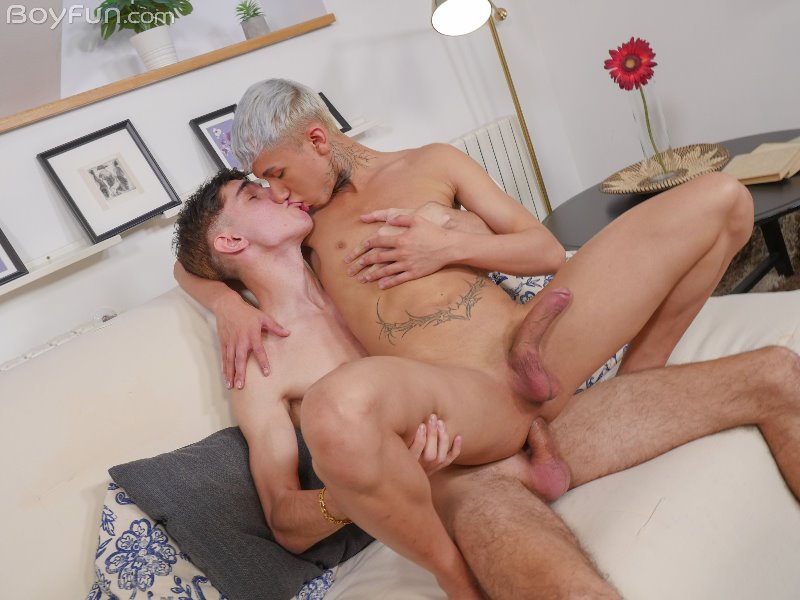 Big dicked young man Vincent Castle is making his BoyFun debut alongside super horny dancer Archi Gold in this new bareback session, and we can't wait to see more of him after this first delivery.
Archi is the bendy boy practicing his ballet moves when fit young Vincent interrupts, he can't seem to resist the sight of the sexy twink in his snugly bulging leggings and white t-shirt.
We can certainly understand that, this inked and lean young performer is a delicious sight no sane top could turn away from.
Thankfully Archi is more than ready to take a break from his ballet workout, and he's soon feasting on the impressive package his pal has for him.
Vincent has an incredible cock, the lean and sporty boy is quickly enjoying the oral attentions of his buddy while Archi wanks and sucks the 8 inch dong. Not only is it long, it's thick and juicy, leaking plenty of precum from the rounded helmet while the boy works him with skill.
While Vincent seems less experienced his eagerness makes up for it. He plays with Archi's cock and licks and sucks on the tip tenderly before heading down to lap at the boy's taint and pucker. It might be his first taste of penis, but if it is he's definitely excited by it.
That's all young Archi needs, the dancer is soon putting his ass too good use and bouncing in his friend's lap, enjoying the stretching sensation of that big bare length inside him.
Vincent takes over with some doggy style action from behind, pumping Archi's hole and enjoying the warm tightness of his pucker around his meaty length.
With is dancer boy on his back and wanking out his sperm all over his stomach Vincent gives him some more quick thrusts before rushing up to deliver a tasty facial, one the boy eagerly accepts.
That good tasty protein fix is enough to fuel Archi's dancing for a while.