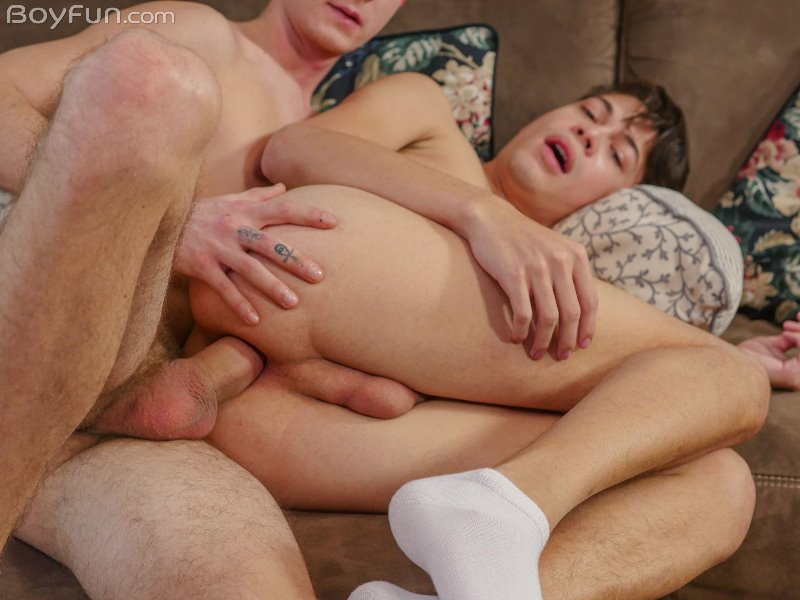 It's never just an innocent card game when horny boy Danny Bianchi is involved, that's something sweet twink Ronan Keane is about to find out in this BoyFun session.
The twink arrives with some oversized cards to play a little game of Snap, with a difference. Of course the loser has to remove an item of clothing, which soon results in Danny being completely naked.
It seems this boy was planning this all along, and his friend isn't complaining about it. With a little smooch the two friends are forgetting about the card game and moving on to something far more fun.
With a whole lot of sucking the boys swap their swollen young shafts, bobbing up and down on those proud penises until Ronan's attention inexplicably turns to his pal's eager pucker.
A little licking is all it takes to have Danny's bareback hole ready for him to slide in deep which he does with eagerness, fucking his buddy from behind and giving his friend a delicious ride on his length.
The passionate spooning hung boy Ronan delivers is what ultimately has Danny splashing his milky mess from his desperate dong in an intense release that could only ever bring his friend to spurting his own copious goo.
Of course Danny is ready for it right in his cute face and thirsty mouth, he's always in need of a creamy load from a pal.