In Episode 4 (the finale) of Hollywood & Vine, Nico, Leo and Tayte sizzle up the screen with a ton of action and a side of voyeurism. The chemistry is hot between all three of them but the sweat pouring off of Leo & Tayte will make sure you hit the rewind button often. Stay sharp cause there are a few surprises in store in all this fun! Don't forget about the blooper reel, at the end credits, that will have you laughing HARD and begging for more?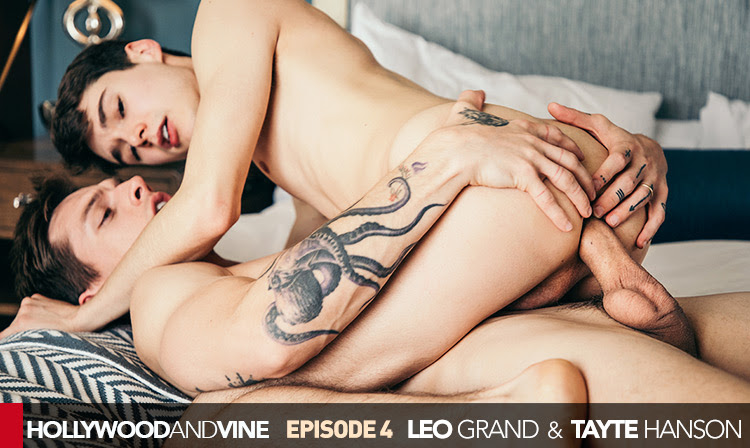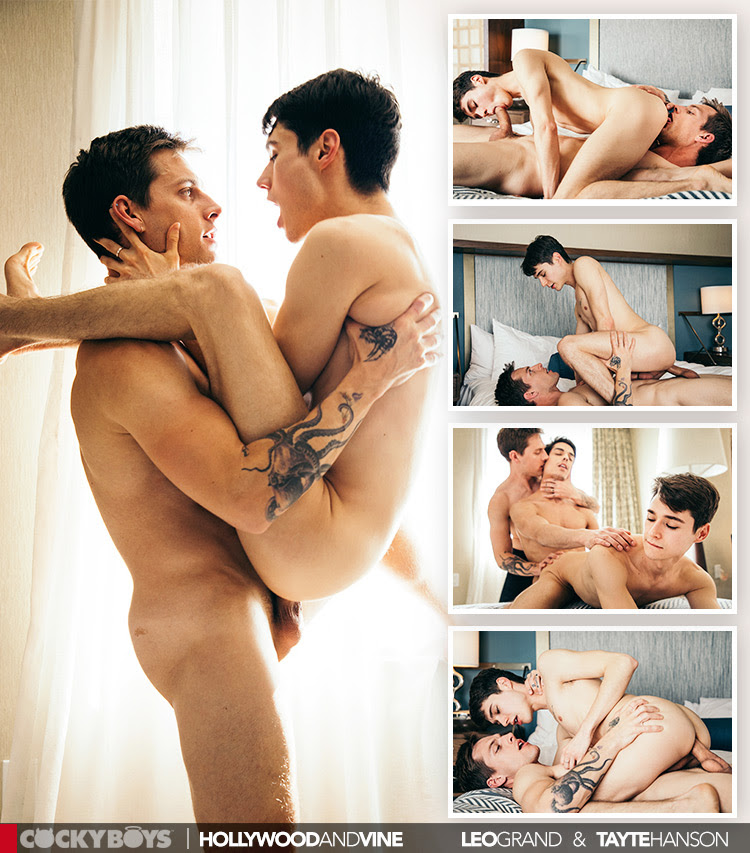 In the Hollywood & Vine finale Nick Leon (Nico Leon) is a changed man after his sex therapy, coming home to shower his boyfriend Chad (Leo Grand) with words of devotion & love, hot sex and a surprise: Tayte Hanson! You're in for an extra surprise too as this episode is followed by a fun blooper reel: a first of its kind for CockyBoys!
Chad (Leo) is hopeful when Nick (Nico) returns with lots of passionate kisses and sensual cocksucking. And after Chad (Leo) returns the favor Nick (Nico) unveils his surprise. While Chad (Leo) lies on his stomach Nick (Nico) brings in Nathan (Tayte) who joins in rimming Chad (Leo) and making out with both guys. But soon Nick (Nico) moves back and strokes his cock watching Nathan (Tayte) feast on Chad 's hole and lie back to get devoted cocksucking.
Nathan (Tayte) gets Chad (Leo) to deep throat him and plays with his hole and in time Chad (Leo) is sitting on his raw cock while making out with him. This pushes Nick (Nico) over the edge and he cums before he happily leaves Chad (Leo) with Nathan (Tayte). In a 69 Nathan (Tayte) again rims Chad (Leo) who sucks him deep and then just sits on Tayte's face to get his ass eaten. He also face fucks Nathan (Tayte) before he resumes sucking him and getting his cock all lubed up to sit on.
Nathan (Tayte) thrusts up into Chad (Leo) who rides him deep and soon they're in sync with a couple excursions into mid-air fucking. In time Nathan (Tayte) plows Leo on his back, expanding his hole with in-and-out precision, and sucking & stroking him. Finally Nathan (Tayte) cums over Chad's hole and drills it back into him. Chad (Leo) wants to try this too and fucks Nathan (Tayte) on his back and breeds him the same way! He is pretty proud of his newfound topping prowess, even when learning the identity of his "teacher"
Does it all work out for Nick & Leo? Let's just say they both learned some valuable lessons to further their lives. And don't forget stay tuned through the credits for behind-the-scenes outtakes & bloopers